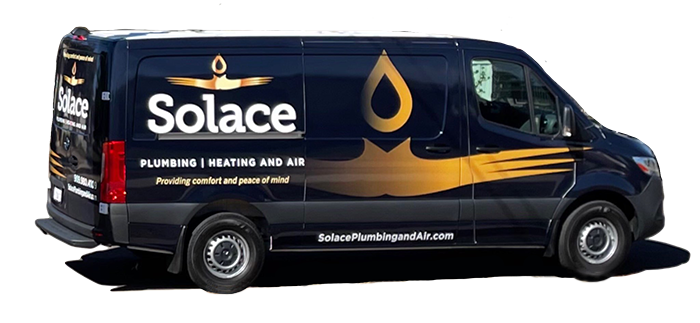 About The Top Plumbing & HVAC Company
in Rancho Cucamonga, CA, and Nearby Areas
Rely on a plumber and HVAC contractor in Rancho Cucamonga, CA, or nearby areas from Solace Plumbing Heating and Air and you can expect high-end products and service that's also "high-end" when it comes to how it's provided. We're a company built on trust, honesty, and a commitment to giving our residential customers results that really matter.
Get to Know Us
At Solace Plumbing Heating and Air, we take pride in building lasting relationships with the residential customers we serve. Our technicians also stay updated on newer plumbing and home comfort technology to better address the needs of our clientele. At the same time, we know the importance and value of using reliable methods that are just as effective.
Who We Serve
We welcome residential clients in:

Our team has a broad range of skills and abilities, which gives you access to an equally broad range of HVAC and plumbing service options. Whether you have a house, apartment, or condo we're ready to offer the assistance you need.
Our Extensive Range of Services
We offer residential plumbing, heating, and cooling services that cover basic household repairs, installations, and replacements. We also give our customers preventative maintenance options courtesy of a local plumber in Rancho Cucamonga, CA, and the surrounding areas.
Plumbing
From routine plumbing repairs and updates to emergency service needs, we're the company to call on right away. Our technicians also repair and install plumbing fixtures, unclog and clean drains, and fix or replace water heaters.
Air Conditioning
If your home's cooling system isn't keeping you cool, we'll find out why and recommend a sensible, affordable solution. We'll also give you an honest, no-pressure repair vs. replacement opinion. We can discuss your options and get everything set up and ready for air conditioning repair in Rancho Cucamonga, CA, and other areas we serve.
Heating
Stay warm on cooler days by giving us a call if your heating system needs repairing. We also do seasonal or annual maintenance and provide heating installation in Rancho Cucamonga, CA, and the surrounding areas.
Solace Plumbing Heating and Air
Can Meet Your Needs
Our team has more than 100 years of combined experience with heating, cooling, and plumbing. This is just one of the reasons you can feel good about working with us. We're also a locally-based team that treats customers right with:

15% off any service we provide

Discounts of 15% on AC services that include refrigerant

15% discounts on any new HVAC equipment purchase

Discounts of 15% for military members, first responders, seniors, and teachers during back to school time
Call Our Local Pros Today
Solace Plumbing Heating and Air is local and ready to respond when service is needed. Regardless of what has you reaching out to us, know our trained, courteous technicians will take the time to leave you fully satisfied with the work. Contact our plumbing and HVAC company in Rancho Cucamonga, CA, and nearby areas today.