Emergency Plumbing in Rancho Cucamonga, CA? We've Got Your Back!

Ever had one of those days where everything is going smoothly and then - BAM - plumbing disaster? Maybe it's an unexpected flood in the kitchen or a bathroom turning into a mini-lake. It's the kind of surprise nobody wants. And when it happens, you need a trusty sidekick to dive into the action.
That's where Solace Plumbing Heating and Air steps in. With a whopping 100 years of combined experience under our belts, we've faced just about every plumbing curveball you can imagine. We don't just come to fix the problem; we come with the knowledge and expertise to ensure it stays fixed.
Available 24/7, our dedicated team is always ready to spring into action when you need us. So when plumbing emergencies threaten to disrupt your routine, keep calm and remember: Solace Plumbing Heating and Air in Rancho Cucamonga, CA has your back.
Facing a Plumbing Crisis? We've Got You Covered with Our Emergency Plumbing Services
Plumbing issues are the stealthy invaders that don't abide by the conventional 9 to 5 timeline. They can ambush your peace at any hour, day or night. That's why we stand guard, ready to respond to your emergency calls any time the need arises.
Round-the-Clock Leak Detection and Repair
Nobody likes unexpected leaks. Be it from a faucet or a sudden pipe gush, we're always on call, ready to tackle the wet mess, ensuring your home stays dry and comfy.
Drain Issues? We've Got the Fix
A blocked drain is more than just a nuisance—it can spell real trouble. We handle everything from clearing simple clogs to major pipe replacements, ensuring the water flows right where it should.
Gas Line Concerns Handled with Care
Gas issues are no joke. Our certified professionals address these with top priority, ensuring any leaks or issues are resolved, making your space safe and sound.
Got a sink that's taking its sweet time to drain? That could signal something more. We use nifty camera inspections to get to the root of the issue and clear things up pronto.
Toilet Repairs & Installations
A misbehaving toilet? It's more than just a minor inconvenience. From clogs to flush issues, we dive in. Our repairs ensure that every flush is efficient, and when you need a new toilet, we're right there with the best options.
Water Heater Repair and Installation
There's nothing like an unexpected cold shower to jolt you awake. But it shouldn't be the norm. If your water heater's acting out, we diagnose the problem, either fixing the old or guiding you to a new, efficient unit.
Gas line safety is paramount. From new installations to maintenance checks, our meticulous approach ensures your gas lines are safe, meeting all necessary safety standards.
Immediate Water Heater Resolutions
Cold showers? No thanks! When your heater decides to be difficult, we're on hand to get it back on track, making sure you enjoy your hot showers just the way you like.
Expert Sewer Services at Your Service
Sewer glitches can bring life to a standstill. Whether it's a simple blockage or a need for a full replacement, we're equipped to handle it, ensuring everything's running smoothly underground.
Stay Ahead with Our Proactive Maintenance
Why wait for a plumbing snag to hit? Our preventive programs are designed to keep things in top shape, catching potential hitches before they grow into major headaches.
A burst pipe can feel like a mini disaster. We respond with urgency, fixing or replacing the affected sections, ensuring your plumbing system returns to its prime state swiftly.
Overflow Issues Solved Promptly
Overflows, whether from the sink, tub, or toilet, are disruptions you don't need. We swiftly address the root cause, ensuring things get back to normal without delay.
Sump Pump Solutions for the Rainy Days
When the rains hit hard, you need a sump pump that's up to the task. If yours falters, we're here, making sure your spaces remain dry and flood-free.
Faucets & Fixtures Repaired Right
A dripping faucet or a malfunctioning fixture can be a water-wasting bother. We step in quickly, addressing the issue with a lasting solution.
Why Trust Solace Plumbing Heating and Air with Your Plumbing Needs?
Plumbing issues can be a real bummer, right? It's like planning a picnic and then it starts to rain. But don't fret; Solace Plumbing Heating and Air by your side, things just get a whole lot easier. So, why put us on speed dial for those pesky plumbing hiccups?
Transparent Billing - No Sneaky Surprises
Nobody likes that unexpected "extra" on their bill. With Solace Plumbing Heating and Air, what you see is what you get. We value trust, and that starts with clear pricing.
Rancho Cucamonga Roots with a Global Touch
Solace Plumbing Heating and Air is homegrown right here in Rancho Cucamonga, CA. We combine our local insights with world-class service standards to give you the best of both worlds.
The team at Solace Plumbing Heating and Air? Think of them as plumbing maestros. Experienced, swift, and always on point. They're the folks you want when the waterworks go awry.
Always on the Ball, Always Ready
Ever had a plumbing emergency at the worst possible time? We get it. That's why Solace Plumbing Heating and Air ensures prompt responses. Because plumbing waits for no one.
Plumbing Problem Creeping Up? Let's Not Let It Flood!
Ever noticed how a little leak, left unchecked, can snowball into a full-blown crisis? It's like that slow trickle you think won't amount to much, but suddenly, you're knee-deep in chaos. That's why our team of seasoned plumbers takes your distress calls seriously, swiftly sailing towards your location with solutions aboard.
We are your trusted ally in dispelling the clouds of plumbing troubles, bringing back the sunny serenity to your home. As those unexpected plumbing challenges arise, take comfort in knowing we're a mere phone call away. Reach out and let us guide you from plumbing chaos to serene solutions in Rancho Cucamonga, CA. We're committed to ensuring your home remains the tranquil sanctuary you cherish, one expert repair at a time.
"*" indicates required fields
8 Different Reasons You Should Hire Us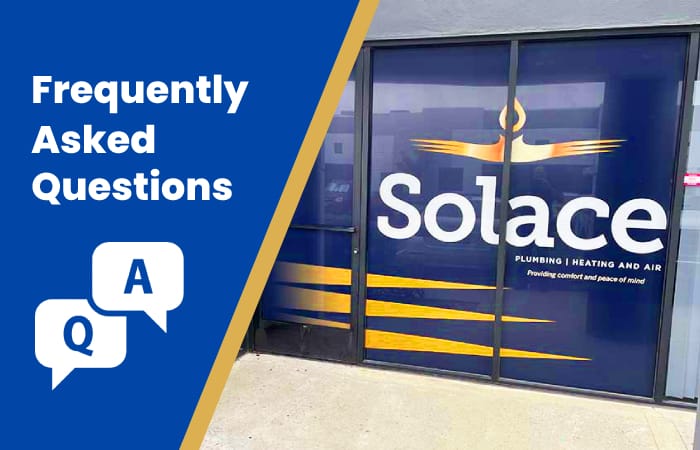 You bet! We've got Rancho Cucamonga covered and even some surrounding areas. If you're close by, there's a good chance we're your neighbors. Give us a call, and we'll be right over!