Unexpected Plumbing Issue at Your Business?
Keep Your Business Flowing Smoothly with Our Expert Commercial Plumbing in Rancho Cucamonga, CA

Ah, the life of a business owner! Between managing staff, impressing clients, and keeping an eye on that bottom line, the last thing you need is a plumbing hiccup stealing the show. It's not just an inconvenience; it's a sudden wrench in your well-oiled business machine.
That's where we come in. At Solace Plumbing Heating and Air, we get the pulse of commercial endeavors. We know every minute counts and disruptions? Not on the schedule. Our mission? To swoop in, tackle those plumbing troubles, and let you get back to doing what you do best - running your business. From the tiniest drips to the most daunting drains, we handle it, ensuring your business keeps buzzing without a hitch.
So, the next time a plumbing glitch threatens to dim your business spotlight, just remember: with Solace Plumbing Heating and Air, the performance never stops. We're keeping Rancho Cucamonga's businesses shining, one swift repair at a time.
Our Commercial Plumbing Services in Rancho Cucamonga, CA:
Whether it's a minor leak or a major plumbing overhaul, we have a suite of services to keep your business operations flowing smoothly:
Professional Plumbing Installation Services
Worried about first impressions of faulty plumbing?
Nothing dampens a business's reputation faster than plumbing issues. With our expert installation, we lay a perfect foundation, so your business starts on the right foot.
Routine Plumbing Maintenance for Commercial Spaces
Tired of recurrent plumbing problems?
Consistent checks can prevent bigger problems down the road. Let us handle the routine, so unexpected hiccups don't disrupt your business flow.
24/7 Commercial Emergency Plumbing
Caught off-guard by sudden plumbing emergencies?
Plumbing problems don't stick to a schedule. Whenever they hit, our team is on standby to ensure your business gets back on track ASAP.
Drain Cleaning & Clog Removal
Frustrated with persistent drain blockages?
Blocked drains can slow down your business operations. We're here to clear the way, ensuring seamless day-to-day operations.
Leak Detection and Repair
Suspicious about hidden leaks affecting your bills?
Undetected leaks can inflate bills and cause damage. We swiftly identify and fix them, ensuring peace of mind and steady operations.
Pipe Installation and Replacement
Dealing with outdated, inefficient piping?
Upgraded piping can enhance the efficiency and safety of your business space. Our services ensure a robust plumbing backbone for your commercial operations.
Water Heater Installation & Repair
Ever had to explain cold water complaints to a client?
A consistent hot water supply can make a significant difference in customer satisfaction. Whether it's repair or installation, we ensure your water heater is always up to the mark.
Water Line Services
Struggling with an unreliable water supply in your business?
Ever faced a sudden water disruption during peak business hours? We ensure a consistent flow with top-notch water line solutions, making sure your operations never skip a beat.
Pipelining Services
Tired of patchwork fixes to aging pipes?
Dread the thought of recurrent plumbing issues? Our pipelining services modernize your system for longevity, ensuring fewer disruptions down the line.
Repiping
Noticed that your older pipes aren't cutting it anymore?
Old pipes causing consistent issues? We rejuvenate your entire system with our repiping, equipping your establishment with the latest and best in plumbing infrastructure.
Frozen Pipes
Caught in the chill of unexpected pipe freezing?
Worried about frozen pipes disrupting your operations this winter? Our swift solutions for frozen pipes ensure your business isn't left out in the cold.
Sewer Cleaning
Drains not as swift as they should be?
Slow drains slowing down your business? Our comprehensive sewer cleaning ensures everything flows smoothly, so you can focus on the business.
Sewer Cleaning
Drains not as swift as they should be?
Slow drains slowing down your business? Our comprehensive sewer cleaning ensures everything flows smoothly, so you can focus on the business.
Sewer Repair
Discovering signs of sewer wear and tear?
Concerned about unexpected sewer malfunctions?We tackle any sewer issue head-on, restoring optimal functionality to your establishment.
Sewer Jetting
Facing stubborn blockages time and again?
Stubborn blockages causing operational hiccups? Our sewer jetting solutions power through even the most resilient obstructions, ensuring a blockage-free system.
Trenchless Sewer Repair
Dreading the thought of property excavation for sewer fixes?
With our trenchless sewer repair, get the solutions you need minus the destructive digging.
Sewer Camera Inspection
Keen on understanding the exact state of your sewers?
Our high-tech camera inspections offer clarity, guiding your informed decisions on repairs.
Gas Line Services
Prioritizing safety with your gas lines?
We ensure secure and efficient gas line services, guaranteeing peace of mind for you and your clients.
Hydrojetting
Confronting hard-to-remove obstructions in your system?
Facing tough blockages conventional methods can't handle? Our hydrojetting clears even the most stubborn clogs, restoring your plumbing's peak performance.
Garbage Disposal Services
Disruptions due to malfunctioning garbage disposal?
Facing disruptions due to a faulty garbage disposal? We streamline your operations with reliable garbage disposal solutions, keeping kitchens efficient.
Sump Pump Repair
Concerned about potential water damage?
Nervous about potential flooding disruptions? With our sump pump repair, stay protected against unexpected flooding.
Bathroom Fixtures
Want your bathroom fixtures to reflect your business's standards?
Want to provide top-notch restroom facilities for clients and staff? Whether it's repairs or upgrades, our services ensure every faucet, tub, and toilet functions flawlessly.
Water Softener
Battling the drawbacks of hard water in your operations?
Hard water causing wear and tear on your plumbing? Our water softener systems enhance water quality, promoting smooth operations and extended appliance lifespan.
Why Should You Choose Solace Plumbing Heating and Air for Your Commercial Plumbing Needs?
Running a business demands 100% of your attention. When you're managing operations, staff, and customer relations, the last thing you need is to stress about plumbing. With Solace Plumbing Heating and Air by your side, we ensure your plumbing is one less thing to worry about. And if you're wondering why Solace Plumbing Heating and Air should be your first call, here are some compelling reasons:
Unmatched Commercial Expertise
Commercial plumbing has its unique challenges, and not everyone's cut out for it. Solace Plumbing Heating and Air brings in-depth knowledge and extensive experience, perfectly tailored for commercial setups.
Custom-Tailored Solutions
Your business isn't cookie-cutter, so why should your plumbing solutions be? We adapt to your specific requirements, offering solutions that mesh with your operations.
In business, surprises are rarely pleasant, especially when they affect your bottom line. With Solace Plumbing Heating and Air, what you see is what you get - no hidden costs, just transparent pricing.
Commitment to Supreme Quality
Quality isn't just a buzzword for us; it's a promise. Solace Plumbing Heating and Air ensures that by using top-tier materials and state-of-the-art techniques, your plumbing stands resilient and efficient.
Plumbing Problems at Your Business? Don't Let Plumbing Issues Throw Your Business Offbeat!
Isn't it a bummer when plumbing issues threaten to disrupt your business flow? It's high time your business plumbing got the royal treatment without the royal pains. Solace Plumbing Heating and Air is all about that seamless fix, ensuring your business operations hum along without missing a beat. Backed by over 100 years of combined experience, we're here to tackle any plumbing curveball thrown our way.
The best part? Top-notch services shouldn't mean empty wallets. That's why, alongside our expertise, we serve up some sweet deals and discounts. Your business deserves uninterrupted operations, and your budget deserves a little kindness.
Eager for smooth-running plumbing that complements your thriving business in Rancho Cucamonga, CA? Reach out to Solace Plumbing Heating and Air. Let's keep your business in Rancho Cucamonga, CA, flowing flawlessly!
"*" indicates required fields
8 Different Reasons You Should Hire Us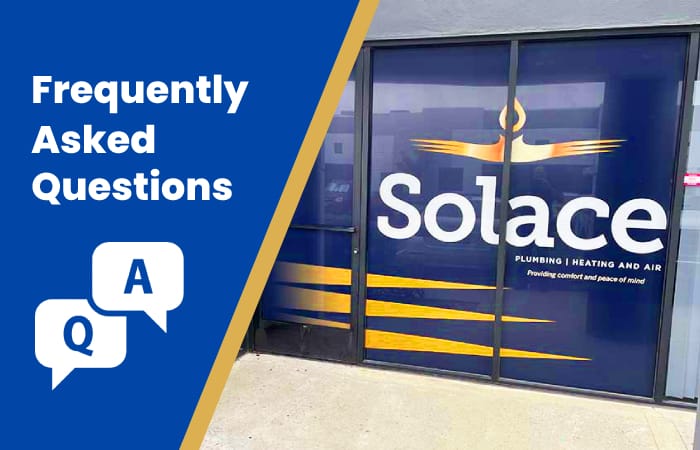 Absolutely! Our team is not only experienced but also equipped to handle plumbing tasks of any size. Whether it's a minor fix or a major overhaul, we've got your commercial space covered.