in Claremont, CA & Nearby Areas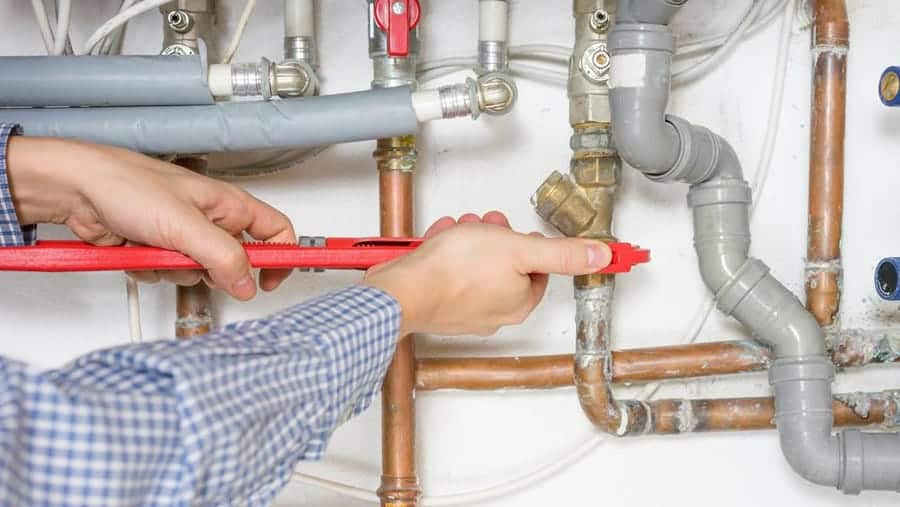 Let the experts address any issue you have involving your plumbing. At Solace Plumbing Heating and Air, we have served the Inland Empire with top service at competitive prices. We are ready to handle your plumbing issues, big or small, 24 hours a day. Whenever you need a plumber in Claremont, CA, be sure to reach out to our team. We take pride in being a 3rd generation family-owned business that has been servicing California residents for more than 25 years.
No, DIY Plumbing Is Not A Valid Option
One of the biggest mistakes a homeowner can make is to try to tackle their own plumbing repairs. Keep in mind that licensed plumbers have years of experience. Rest assured that we will be able to safely and diligently handle any plumbing issue. Additionally, we will be able to see potential dangers that the average homeowner will not be able to detect.
So what can go wrong if you try to fix a plumbing problem on your own? First, you can end up causing a bigger mess than the one that you already have. There are many homeowners who try to fix a leaking pipe by removing the pipe only to flood a part of their home. You also want to avoid doing your own plumbing because you may not have the professional tools needed to deal with the issue the right way. Finally, doing your own plumbing may take longer than you think. Honestly, do you want to spend your entire weekend dealing with one leaky pipe? Don't take any chances, rely on the leading plumbing company to get the job done right.
Our Professional Plumbing Services Are What You Need
When you hire our team for our comprehensive range of plumbing services, you get someone who is trained to handle just about every type of plumbing problem. We have the tools and the industry know-how to handle the problem. First, the plumber has been screened. You obviously want to be extremely cautious about who you allow in your home. At Solace Plumbing Heating and Air, we will simply show up on time. You don't want to wait for hours for someone to show up. Our professional plumbers know that your time is valuable.
We provide:
Emergency Plumbing - When you have a flooded bathroom before the break of dawn, you don't want to wait for hours to fix the problem. We offer emergency plumbing repairs and we are on call 24 hours a day.
General Plumbing - Reach out to Solace Plumbing Heating and Air when you are dealing with general plumbing issues. We also offer fixture repair, installations, replacements and drain cleaning services.
Water Heater Services - Entrust all your water heater needs to our local team and you can expect hot water whenever you need it. We also take pride in being an authorized dealer of Bryant and Noritz Brand water heaters, which means that we can provide you with a whole range of options for your specific needs and budget.
Schedule Your Service Today
Contact us today at Solace Plumbing Heating and Air for top plumbing services that provide great value for your home. Call us or fill out the online form to schedule an appointment. We look forward to working with you.
Why Should You Hire a Professional Plumber?
Hiring a plumber provides many perks and benefits. The top one is knowing the job will be done right. Professionals also know how to look for related issues that should also be resolved before other problems develop. Another reason to hire a licensed professional is to ensure all necessary regulations and codes are followed.
"*" indicates required fields
8 Different Reasons You Should Hire Us