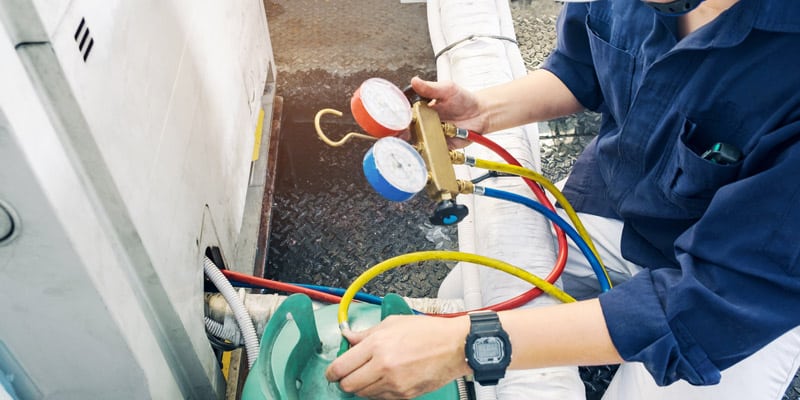 Your heating system is important because it ensures your comfort. It moves heat where it's wanted and removes heat where it's not needed. However, many homeowners don't pay attention to their heating system until a problem arises, which can cause an inconvenience.
Whenever you need heating services, be sure to reach out to Solace Plumbing Heating and Air. We ensure high-quality results at prices you can afford.
We Offer Heating Maintenance
Most issues that affect your heating system aren't noticeable until it's already caused a lot of damage. This is why regular heating maintenance should be performed, and well before the colder months begins.
Routine maintenance by your trusted HVAC contractor in Eastvale, CA, from Solace Plumbing Heating and Air allows us to closely examine your heating system and pinpoint any problems that could be developing. The goal is to stay on top of any potential threats that can cause major damage. This not only saves you from a headache of heating problems but saves you money in the long run. It is costly to constantly repair your heating system over time and sometimes it even results in a complete replacement well before time.
Another reason to consider routine maintenance is that you will experience inconsistent temperatures throughout your home if the HVAC isn't working properly. Along with this, your HVAC system will accumulate dust over time. If the blower components aren't inspected properly, this will restrict airflow, reducing comfort levels.
Professional Heating Repair
In order to stay on top of your heating system, it's important that you know the signs it's time for heating repair in Eastvale, CA, courtesy of Solace Plumbing Heating and Air. Here are the common signs to consider.
Strange Noises - One of the most common signs that you're experiencing issues with your heater is strange noises. Keep in mind though, this is not to be confused with the noise you hear when your heater is running. However, noises such as hums, rattles, and buzzes should be paid attention to.
Low Air Flow - If your heat isn't pumping out like normal, this could be a sign that there is a blockage in the system or a problem with the fan.
Short-Cycling - This occurs when the furnace turns off and on multiple times throughout the day. Since the fan motor and other components of your furnace uses a lot more energy starting and stopping than they do running, this can lead to a huge issue.
If you experience any of these issues, it's important to consider a repair or even a heating replacement in Eastvale, CA, from our team.
Benefits of Professional Heating Services
No homeowner wants the headache of constantly dealing with heating issues. The good news is, the prompt and professional heating installation will make home life a lot easier.


You don't want to make you and your family at risk of suffering through a broken heater on a cold day. Hiring a professional for repair or heating replacement will give you comfort in mind and in your home as you prepare for brutal months. Heating services is also beneficial as it protects your system for as long as possible. Sometimes the smallest of issues can cause the biggest problems. Staying on top of your heating system ensures that you always have quality heat.
Trust the Heating Experts
At Solace Plumbing Heating and Air, we provide plumbing, heating, air conditioning, and indoor air quality to ensure your home is a comfortable place to live in. If you're having issues with your heating system or just want to stay on top of your heating system, it's time to contact professionals who can get the job done quickly and efficiently.
We have been in business for 25 years with 3 generations of dedicated workers. We take care of our customers by providing 5-star services. Additionally, we are a full-service plumbing company serving a 25-mile radius around Rancho Cucamonga. Our service areas include:
Contact Us for Heating Repair or Maintenance Today!
Contact Solace Plumbing Heating and Air for the heating services that you need. Call us now or fill out the online form to schedule your appointment. We also specialize in:
"*" indicates required fields
8 Different Reasons You Should Hire Us