Tired of Second-Guessing Your Water Quality?
Secure Purity with Elite Water Filtration Services in Rancho Cucamonga, CA!

How often do you hesitate before filling up a glass straight from the tap? That subtle distrust in the back of your mind, wondering if what's flowing out is truly clean. It's a common concern, and for many, it leads to a home stocked with bottled water. You end up spending more, all while contributing to the looming plastic menace. But guess what? There's a way out of this loop.
The answer isn't stocking up on even more bottled water or settling for that questionable tap taste. It's about empowering your home with the right water filtration system. We're not talking about some basic, stick-it-on-and-forget filter. This is about comprehensive Water Filtration installation, repair, and replacement services right here in Rancho Cucamonga, CA.
Why remain in the cycle of doubt and dependency on store-bought water? Why stress over every sip or every pot of pasta you boil? With our Water Filtration services, you get more than a product. You get a promise - a promise of clarity, purity, and peace of mind every time you turn on that tap. So, step up, take control, and let's make every drop count!
Our Water Filtration Services in Rancho Cucamonga, CA
Your journey towards pure, clean water starts with the right services. At Solace Plumbing Heating and Air, we've mastered the art and science of water filtration. Here's what we've got in store for you:
Water Filtration Repair, Rancho Cucamonga, CA
Filter not doing its job anymore? Not a problem. We swoop in, diagnose the hiccup, and get your filtration system back on track in no time. Our repair service ensures that no impurity gets past your filter.
Water Filtration Installation, Rancho Cucamonga, CA
Setting up a new home or just want an upgrade? We handle installations with finesse. Our team assesses your needs and fits in the best filtration system, making sure that every drop of water you use is as pure as can be.
Water Filtration Replacement, Rancho Cucamonga, CA
Sometimes, it's about starting fresh. Whether your old system has run its course or you're looking for a newer, more efficient model, we're the team to call. We'll swap out the old for the new, ensuring a seamless transition.
Whole House Water Filtration
It's not just about drinking water. We believe in a holistic approach. With our whole house water filtration solutions, every faucet, every shower, and every appliance benefits from the pristine quality of filtered water.
Consultation and Water Testing
Before deciding on a filtration system, professionals often test your home's water to determine its specific impurities and recommend the best solution.
Why Water Filtration is a Must in Rancho Cucamonga, CA
Ever paused a moment to wonder why those high-end restaurants always emphasize their use of filtered water? That's because pure water doesn't just mean health; it's a lifestyle. And guess what? With Solace Plumbing Heating and Air, you don't need to dine out to experience that.
But let's dive deeper. Why exactly should you consider water filtration?
Cheers to Good Health: Unfiltered water can sometimes be a cocktail of unwanted elements: think chlorine, certain heavy metals, and even some microorganisms. Our filtration solutions keep these at bay, ensuring every sip is clean and safe.
Earth's Best Friend: Those water bottles might seem handy, but they're not doing the environment any favors. Opting for a filtration system helps curb plastic pollution, letting you make an eco-friendly choice daily.
Elevate the Flavor: Your morning coffee, that herbal tea you love, even your favorite soup — everything tastes noticeably better with filtered water. It's like unlocking a gourmet experience right at home.
Wallet-Friendly in the Long Run: Regular expenses on bottled water or frequently changing small filters add up. Investing in a robust water filtration system from us means more savings and consistent water quality.
Ready to experience the difference and upgrade your water game? Solace Plumbing Heating and Air has got your back.
Thinking of Ditching Bottles for Boundless Clean Water?
Think about it — every sip you take, every meal you cook, every shower you enjoy, it's all intertwined with the quality of your water. Settling for a mediocre system? That's like settling for a mediocre life. And you deserve better. With Solace Plumbing Heating and Air in Rancho Cucamonga, CA, you're not just choosing top-tier water filtration services; you're investing in a clearer, cleaner, and healthier lifestyle. So, why wait? Reach out and let's ensure that every drop flowing in your home mirrors the excellence you seek in every aspect of your life. Dive into pure, refreshing, and uncompromised quality today!
"*" indicates required fields
8 Different Reasons You Should Hire Us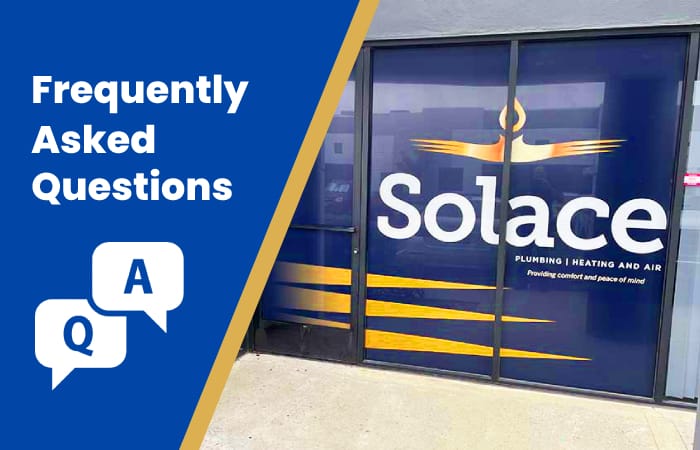 Well, here's the thing: buying bottled water is a short-term solution and can become pretty expensive over time. Plus, think of all the plastic bottles accumulating! By investing in a water filtration system, you not only save money in the long run but also contribute to a greener planet. And hey, nothing beats the convenience and confidence of pouring a glass straight from the tap, right?