Tired of Pesky Residential Plumbing Issues?
Solace Plumbing Heating and Air in Rancho Cucamonga, CA, Brings a Century of Expertise to Your Rescue!

You know, a home is supposed to be that cozy corner where we find solace after a long day. But nothing, and I mean nothing, spoils the vibe quite like plumbing problems. They're like that annoying alarm clock that just won't snooze. Maybe you've tried those DIY hacks from online videos or even given that budget-friendly plumber a shot. And yet, like a bad sitcom rerun, those pesky problems keep showing up.
Instead of endlessly typing 'best residential plumbers near me' into the search bar, it's time to turn to the real pros. At Solace Plumbing Heating and Air, we're not just another name on a list. With a combined experience of over 100 years, we've been tackling plumbing challenges long enough to know how to get them right the first time. And the best part? We believe in top-notch service without making your wallet cry right here in Rancho Cucamonga, CA.
So, here's a thought: why let a dripping tap or a stubborn clog ruin your day any longer? Let's get that sorted, shall we?
Our Residential Plumbing Services in Rancho Cucamonga, CA:
Had enough of typing 'residential plumbers near me' and crossing your fingers? Solace Plumbing Heating and Air is your local answer to every plumbing challenge unique to our region. From those pesky little clogs that just won't budge to the "why-is-this-tap-still-dripping" mysteries, we've got you covered.
Routine Cleaning & Maintenance
Your home's plumbing is like its circulatory system. To keep things flowing optimally, regular check-ups are key. With our maintenance service, we ensure pipes are clear of blockages and wear, making sure they serve you efficiently for years.
Ever had a small leak turn into a big headache? Small leaks can lead to big problems. We utilize advanced detection methods, swiftly locating leaks, and employing durable repair techniques. The aim? Stop the problem at its source and save you potential repair costs down the line.
Fixture Installations & Upgrades
Planning a little makeover for your bathroom or kitchen? A new fixture can refresh a room. But it's not just about looks; it's about longevity. When we install, whether it's a sleek new faucet or a modern showerhead, we ensure it complements your space in both form and function.
Got a sink that's taking its sweet time to drain? That could signal something more. We use nifty camera inspections to get to the root of the issue and clear things up pronto.
Toilet Repairs & Installations
A misbehaving toilet? It's more than just a minor inconvenience. From clogs to flush issues, we dive in. Our repairs ensure that every flush is efficient, and when you need a new toilet, we're right there with the best options.
Water Heater Repair and Installation
There's nothing like an unexpected cold shower to jolt you awake. But it shouldn't be the norm. If your water heater's acting out, we diagnose the problem, either fixing the old or guiding you to a new, efficient unit.
Gas line safety is paramount. From new installations to maintenance checks, our meticulous approach ensures your gas lines are safe, meeting all necessary safety standards.
Sewer issues can be both unpleasant and damaging. We offer a comprehensive range of services, from cleanings and repairs to replacements, always with a focus on long-term functionality.
224/7 Plumbing Emergency Services
Unexpected plumbing issues don't wait, and neither do we. Day or night, holiday or weekend, we're available to address any emergencies, minimizing disruption and damage.
Why Choose Solace Plumbing Heating and Air for Residential Plumbing & HVAC in Rancho Cucamonga, CA, and Beyond?
Every day there's a new plumbing and HVAC crew popping up, each vying for your trust. But guess what? One name has remained unwavering and trustworthy for years: Solace Plumbing Heating and Air. Here's why we continue to be your best choice:
Decades in the Game: Over 100 years of combined experience? Yep, that's us. We've pretty much seen and fixed it all, from the tiniest leaks to the biggest, "Oh no, what happened?!" moments.
Quality Without the Crazy Price Tag: We love giving you top-notch service, but we also believe it shouldn't empty your wallet. Keep an eye out for our discounts to get the best bang for your buck.
Comprehensive Care: Save the hassle of juggling multiple contractors. From minor repairs to major installations, we're your one-stop solution for all plumbing needs.
Commitment to You: Our foundation is built on fostering enduring relationships with our valued customers. Ensuring your complete satisfaction isn't just a goal—it's our promise.
Ready to End the Cycle of Plumbing Issues?
The constant drip, the recurring clogs, the dreaded plumbing checklist – they don't have to be a regular fixture in your life. Your home is where stories are built and memories are made; don't let plumbing problems interrupt your narrative.
With Solace Plumbing Heating and Air, we turn your plumbing woes into tales of reliable solutions. By focusing on excellence and precision, we ensure you can concentrate on cherishing moments in your home.
Contact us today for plumbing services tailored just for you. Let Solace Plumbing Heating and Air redefine your residential plumbing experience in Rancho Cucamonga, CA – setting the stage for a home free from plumbing interruptions.
"*" indicates required fields
8 Different Reasons You Should Hire Us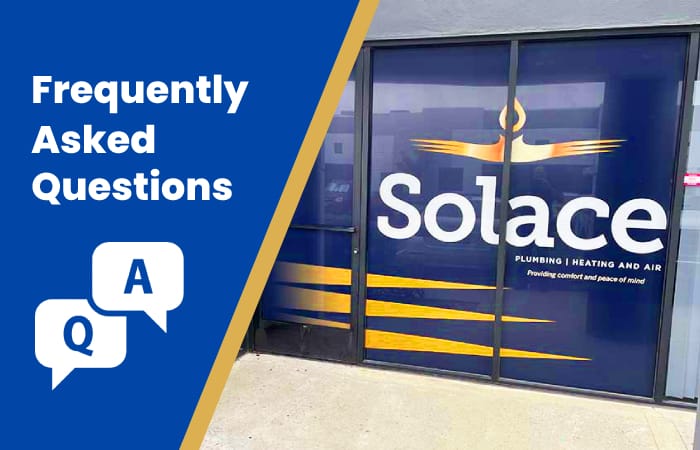 Oh, that's an interesting one! So, imagine your home's plumbing system as being designed specifically for the day-to-day activities of a household – that's residential plumbing. Commercial plumbing, though? It's a whole different beast. It's crafted for business places like malls or offices, which usually means it's got to handle way more capacity and complexity.