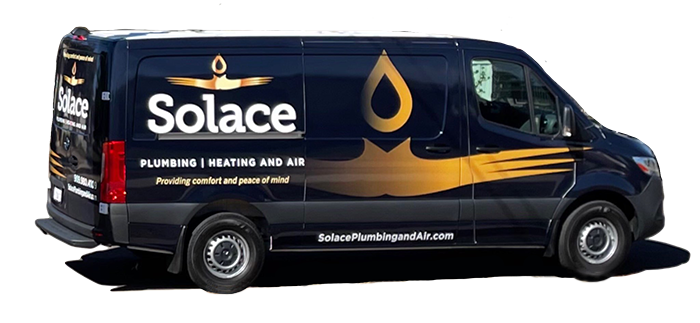 The Leader in Air Conditioning Repair
in Eastvale, CA
Maintaining your home's air conditioner or HVAC system as a whole is imperative as a homeowner, especially if you live in a location with a warmer climate such as Eastvale, California. Taking care of and maintaining your home's air conditioner can help extend its lifespan while also providing you with an HVAC system that is as efficient as possible. When you need air conditioning repair in Eastvale, CA, turn to the experts.
At Solace Plumbing Heating and Air, we are a full-service plumbing and HVAC contractor that has been in business for more than 25 years. We also serve surrounding areas within a 25-mile radius of Rancho Cucamonga.
Choose Our Team for Repair Services
Air conditioners may break down from time to time, whether you have standard air conditioning window units throughout your home or if you have a central cooling system installed. With our professional air conditioning services, we ensure each of our clients is satisfied at all times. Whether your air conditioner's filter requires a replacement or if your central cooling unit's motor requires replacing, we can help.
Benefits of Air Conditioning Maintenance Services
One of the ways we help our clients is by offering ongoing air conditioning maintenance. Our maintenance service plans help to keep air conditioners in working order year-round, even when they are not as frequently used. Having a maintenance plan in place can protect you from costly repairs while also helping you to monitor the overall condition of your home's air conditioners through the years. Maintenance service plans help to prevent costly repairs and entire replacements by professionally inspecting and monitoring the air conditioners in your home at regular intervals throughout the year.
Air Conditioning Installation and Replacement Solutions
For any problem, you are experiencing with your air conditioning, call on Solace Plumbing Heating and Air to work with a professional HVAC contractor. We ensure proper installation at all times so you can make the most of your unit.
We provide air conditioning inspections, repairs, and even air conditioning replacement for those interested in investing in a brand new unit for their home. At Solace Plumbing Heating and Air, we provide products to our customers in need. Some of the air conditioning products we currently provide include:
Preferred Single-Stage Air Conditioner
Legacy Single-Stage Heat Pumps
Preferred Compact Air Conditioners
Legacy Line Single-Stage Coastal Air Conditioner
Preferred 2-Stage Air Conditioner
Evolution 2-Stage Coastal Air Conditioner
Evolution Single-Stage Air Conditioner
Evolution Extreme Variable-Speed Air Conditioner
Evolution 2-Stage Heat Pumps
Solace Plumbing Heating and Air offers a full range of air conditioning installation in the following locations:
Contact Us for Air Conditioning Repair
Are you in need of an ongoing air conditioning maintenance service plan or repair solutions? We can help. Contact Solace Plumbing Heating and Air to learn more about our air conditioning services and to schedule your evaluation and estimate today. Feel free to call us or fill out the online form on this site. We also provide:
We're a local company that maintains optimal customer care standards at all times. These include upfront, reasonable prices coupled with added perks that include:

15% discounts on any service

15% off any AC-related service

15% refrigerant discounts

Discounts of 15% for seniors, teachers during back to school time, military members, and first responders

High-end products and services
Another reason to choose Solace Plumbing Heating and Air is because of our experience. In fact, our technicians have more than a hundred years of combined experience with home comfort services and solutions.
Schedule Expert
AC Service Today
Contact our team today for dependable residential air conditioning services right away. Feel free to call us or fill out the form to schedule an appointment. We would be more than happy to be of service.