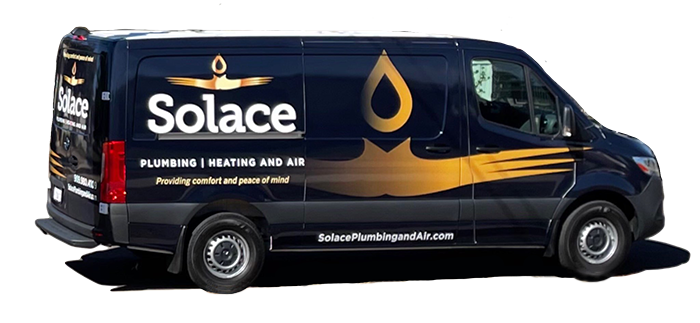 Your Trusted Plumber and HVAC Contractor
in Rancho Cucamonga, CA
What can a plumber and HVAC contractor in Rancho Cucamonga, CA, do for you? Regardless of your exact needs, count on Solace Plumbing Heating and Air to arrive promptly to address your home comfort needs.

Local Plumbing Pros
If quality is what matters most to you, contact Solace Plumbing Heating and Air. We're a full-service plumbing and HVAC company that serves residential clients in Rancho Cucamonga, CA. We pride ourselves on providing high-end products from trusted manufacturers and high-end service focused on quality, affordability, and long-term value.
General Plumbing - Our general plumbing services are sure to be conducted by a licensed plumber in Rancho Cucamonga, CA, as we cover just about anything that can affect residential faucets, fixtures, pipes, and drains. We're also the company to call if you're ready to update plumbing fixtures or install new ones.
Drain Cleaning - From clogging to going down slowly, drains sometimes do unexpected things. When your home's drains aren't working right, we'll find out and why and use a safe, appropriate cleaning method. We're also available to perform routine cleanings to prevent clogs and other serious issues.
Water Heater Service - Invest wisely in your water heater by getting the advice you need to choose a new one for your home. We also help our residential customers in Rancho Cucamonga, CA, repair or maintain existing water heaters and make well-informed repair vs. replacement decisions. Our team can also make sure you maximize the performance of your traditional or tankless unit, as we perform proper water heater installation in the local area. We will ensure proper installation to help you maximize its performance and other benefits from the get-go.
Reliable Air Conditioning Expert
AC installation - Get the most for your investment by having our technicians install your new home cooling system.
Air conditioning maintenance - Extend the useful life of your AC by taking advantage of our preventative maintenance options.
Air Conditioning Repair - If your air conditioner is making odd noises or not cooling your home properly, we'll make the necessary air conditioning repair in Rancho Cucamonga, CA, by using quality parts.
Air conditioning replacement - Let one of our experienced technicians explain your replacement options so you can determine what's best for your budget and comfort preferences.
Heating Professionals
Heating installations - Be prepared for chilly days and nights by having our technicians recommend and provide the necessary heating installation in Rancho Cucamonga, CA.
Heating maintenance - Keep your furnace or another preferred heating system on the job longer by contacting us for routine maintenance and upkeep.
Heating repair - We're just a call away when heating problems need quickly and accurately diagnosed and resolved.
Heating replacement - Find out for sure if replacement is what's best for your situation by getting an honest opinion from our HVAC professionals.
Why Work with Solace Plumbing Heating and Air
Fair, transparent pricing is one of the reasons why you'll appreciate working with our seasoned team of HVAC and plumbing technicians. Become one of our customers today and you'll benefit from:


15% military, senior, first responder, and back to school teacher discounts

Discounts of 15% for new HVAC installs, AC services, and refrigerant

We are also a proud partner with Lennox®, the most trusted name in air conditioning systems today. We are an authorized dealer and installer on their AC units. Solace Plumbing Heating and Air recommends Lennox air conditioning systems because these are perhaps the quietest and most energy-efficient products on the market today. As a matter of fact, they are engineered towards efficiency, assuring you of a cost-effective solution to your cooling needs without worrying about breaking the bank.
Contact Our Team Today
for A+ Service
Feel good about choosing Solace Plumbing Heating and Air as your preferred plumbing and HVAC experts. Quality is what drives our local team, which has more than 100 years of combined experience dealing with all kinds of heating, cooling, and plumbing service needs. Contact us today to request service or schedule an appointment.
Plumber in Rancho Cucamonga, CA
Air Conditioning Repair Rancho
Cucamonga, CA
Heating Installation Rancho Cucamonga, CA