Looking for Reliable Gas Line Services in Rancho Cucamonga, CA? We've Got Your Back!

When something's off with your gas line, the last thing you want to do is play the guessing game. A weird smell or that hissing sound? Yeah, that's not just some minor inconvenience. It's a heads-up that things could get messy, or worse, dangerous, with dangers ranging from health risks to more catastrophic outcomes like fires.
Solace Plumbing Heating and Air understands the gravity of such situations. As trusted gas line contractors in Rancho Cucamonga, CA, we're here to ensure your home and safety are always in top-notch condition. When you're googling "gas line contractors near me" or "gas line leak repair near me," know that our team is equipped, experienced, and ready to respond.
Hesitations? Concerns? Or just need some professional guidance? Reach out to Solace Plumbing Heating and Air. We're here to ensure that your residence remains the cozy, danger-free sanctuary you cherish, one expert gas line service at a time.
Our Gas Line Services in Rancho Cucamonga, CA
From Quick Fixes to Robust Installations, Solace Plumbing Heating and Air Has Your Back
Noticed a suspicious odor or an unsettling hissing sound from your appliances? It's time to act. Our repair services are on standby to pinpoint and rectify these concerning signs, making sure your home is safe and up to standard.
Embarking on a home makeover or setting up a new place? We've got you. Our installation services ensure a secure, efficient, and lasting setup that complies with all safety regulations.
Natural Gas Line Installation
Making the switch to natural gas or need a new line? We're experts in setting up natural gas lines that maximize energy efficiency and meet all safety codes. And don't worry about the paperwork; we'll help you through the permit process.
Catching whiffs of that notorious rotten egg scent? Immediate action is crucial. Our emergency team is ever-ready to identify and mend those risky leaks, putting the safety of your household first.
Gas Line Maintenance Service
Why wait for problems when you can prevent them? Our maintenance service includes regular checks, pressure tests, and small fixes to ensure your gas lines are always in peak condition.
Commercial Gas Line Repair & Installation
For businesses, downtime is a dreaded word. Be it a trendy cafe or a bustling retail store, Solace Plumbing Heating and Air is equipped to handle commercial gas line challenges efficiently, ensuring minimal interruption to your operations.
Underground Gas Line Repair
Hidden gas lines might sound complicated, but they're right up our alley. Our adept team, backed by specialized equipment, can handle underground repairs with precision, ensuring minimal disruption to your landscape.
Emergency Gas Line Repair
Think you have a gas leak? Every second counts. Our 24/7 emergency response team is always at the ready, ensuring your safety isn't compromised for a moment longer than it needs to be.
Why Choose Solace Plumbing Heating and Air for Your Gas Line Needs?
Gas line troubles can be nerve-wracking. But when you have Solace Plumbing Heating and Air in your corner, those worries fade away. Here's why we stand out:
No one likes hidden costs or surprise bills. That's why we're committed to transparent pricing. With us, you get straight-up estimates and no hidden fees. It's all about trust and clarity.
Seasoned Pros with a Wealth of Experience
Gas lines are no playground; they require a depth of knowledge and precision. Our team comprises seasoned professionals who have years of experience in managing both common and complex gas line challenges.
When it comes to gas, time is always of the essence. We prioritize rapid responses without compromising safety, ensuring that any issues are addressed promptly and thoroughly.
Customer-Centric Approach
Your peace of mind is our top priority. Our team is not only technically skilled but also trained to provide a courteous, hassle-free service experience from start to finish.
Facing Gas Line Troubles? Don't Wait, Act Now!
Gas line glitches are no minor inconveniences. They're ticking time bombs waiting to disrupt the safety and tranquility of your home. The faintest smell of gas or that subtle hissing could spell imminent danger, with threats ranging from sudden fires to potential health hazards. Moreover, such issues can cripple essential home functions, leaving you without warmth or the means to whip up your favorite meal.
In Rancho Cucamonga, when you're fed up with quick fixes that just don't last, Solace Plumbing Heating and Air is your answer. Our services are designed to dive deep, pinpointing and resolving the root causes of your gas line issues. Our mission? To restore not just your comfort, but your peace of mind.
So, if you're all about ensuring your home's safety and operating at its best, give Solace Plumbing Heating and Air a call. We're committed to transforming your concerns into solutions that stand the test of time.
"*" indicates required fields
8 Different Reasons You Should Hire Us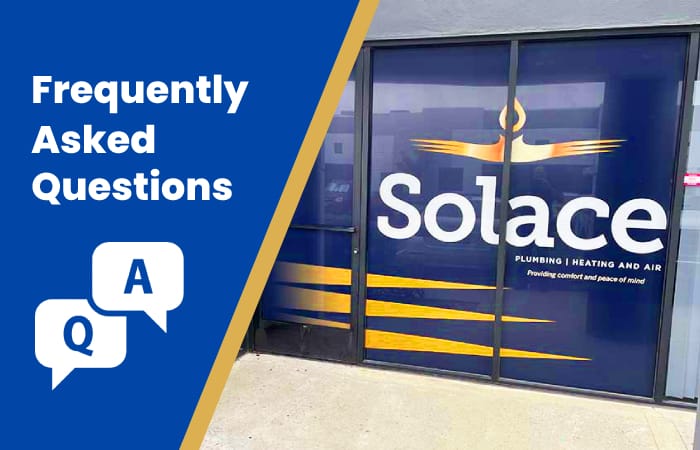 Great question! For peace of mind, it's a good idea to get your gas lines checked every year. It helps in early detection of any potential issues. Plus, regular check-ups can extend the life of your system.