Garbage Disposal Services in Rancho Cucamonga, CA
Seamless Waste Management at Your Fingertips!

Kitchen waste pile-up? Yeah, we feel your pain. Nothing ruins the post-dinner vibes faster than a sink full of leftovers and peels. But what if dealing with that mess was as easy as flipping a switch? That's where a solid garbage disposal system comes in – like a kitchen superhero, quietly waiting to save the day.
At Solace Plumbing Heating and Air, we're more than just gas line experts. We're the go-to team for all your garbage disposal needs in Rancho Cucamonga, CA. From prompt garbage disposal repairs in Rancho Cucamonga, CA to expert advice on choosing the right unit for your needs, we're here to simplify your kitchen experience. And when the time comes for a fresh start, our garbage disposal installation services ensure you've got the best in the business.
Our Garbage Disposal Services in Rancho Cucamonga, CA
Isn't it frustrating when your garbage disposal decides to have a mini-rebellion right in the middle of a busy kitchen session? We feel you. Solace Plumbing Heating and Air is here to turn that frustration into relief. Let's see how we can help:
Garbage Disposal Installation
Starting from scratch or thinking of an upgrade? We're here to guide you. After understanding your kitchen's demands, we'll recommend a machine that can keep up. If you're searching for top-tier garbage disposal installation in Rancho Cucamonga, CA, look no further.
Garbage Disposal Replacement
If your old disposal's more groan than grind, it's probably time for a change. We won't just swap it out; we'll ensure your new unit perfectly aligns with your kitchen dynamics. Seamless replacements? That's our promise.
Clogged Garbage Disposal Repair
Ah, the infamous clogs! Before you ponder over online DIY tricks, give us a shout. Renowned for our garbage disposal repair in Rancho Cucamonga, CA, we diagnose the problem and fix the root cause, ensuring your disposal's smooth operation is restored.
Late-night grinding sound turning your kitchen into a horror scene? Breathe easy. Our round-the-clock team will swoop in, fix the drama, and restore peace, making sure you wake up to a silent and efficient disposal.
Noticed a drop in efficiency or an odd odor? A quick maintenance session can do wonders. We'll clean, adjust, and ensure your unit's back to its optimal performance.
Why Choose Solace Plumbing Heating and Air for Your Garbage Disposal Needs?
Sure, plenty of plumbers might claim they can tackle your garbage disposal woes, but here's the deal:
Our team brings a whopping 100 years of combined experience to the table. We've tackled just about every garbage disposal challenge you can imagine. From those weird noises to replacing stubborn old units, our track record speaks volumes.
Local Roots with Global Standards
Being from Rancho Cucamonga gives us that local touch, but don't be fooled. Our standards are world-class, ensuring you get the best of both worlds.
No hidden fees, no surprise charges. We value your trust, so we keep our pricing transparent and fair.
Always Ready, Always There
Life's mishaps don't clock out at 5 PM, and neither do we. Whether it's high noon or midnight, we're here to help.
So, looking for a team that's seen it all and fixed it all? With Solace Plumbing Heating and Air, you're not just hiring a plumber; you're partnering with seasoned pros dedicated to excellence. Let's get that kitchen humming perfectly once more!
Kitchen Chaos Thanks to a Wonky Disposal? Let's Flip the Switch!
There's nothing like the grind of a garbage disposal gone rogue to sour your day. But what if those persistent clogs and odd noises could be a thing of the past? Whether it's mid-meal prep or post-dinner cleanup, you don't need that stress. At Solace Plumbing Heating and Air, with our century's worth of combined experience, we've tackled every disposal hiccup you can imagine.
Ready to swap out those disposal dilemmas for smooth operations? Reach out to us in Rancho Cucamonga, CA, and let's keep your kitchen running like a well-oiled machine.
"*" indicates required fields
8 Different Reasons You Should Hire Us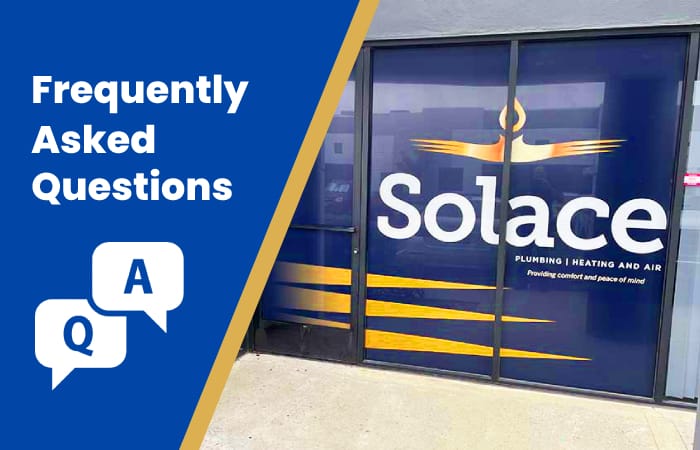 Typically, a good garbage disposal can last anywhere from 8-15 years, depending on use and maintenance. If yours is acting up and it's getting up there in age, it might be time for an upgrade.